Road King Zephyr Gold Series Acrylic Windshield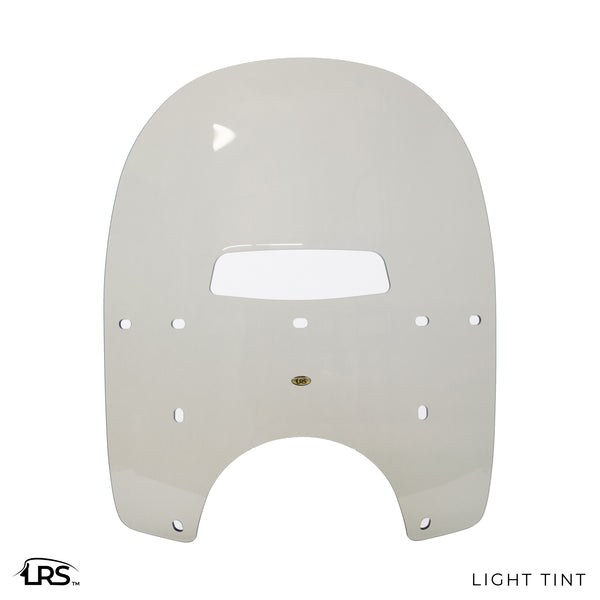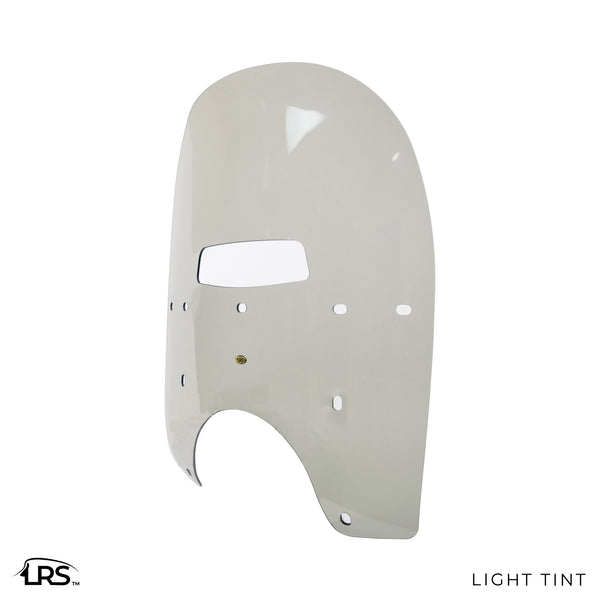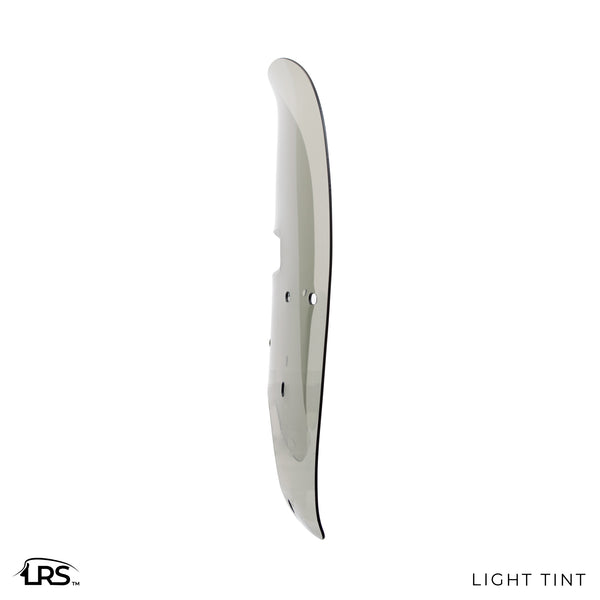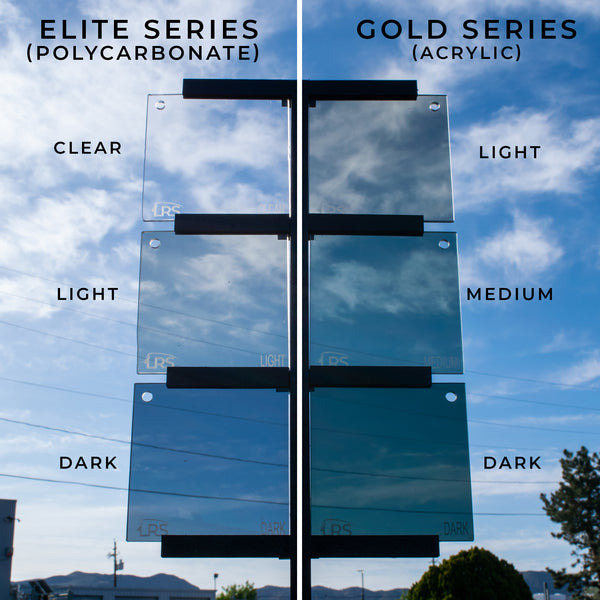 We designed the Road King™ Windshield to allow the rider to clearly see over the shield and onto the road in front of them. We know you buy the Road King for a reason, like being free and open to the elements, which is why we want to improve the quality of your ride with less wind buffeting and noise pollution by adding the LRS™ Recurve touch. Now, our Road King™ is EVEN BETTER! The Zephyr™ modification gives you the opportunity to add an adjustable vent (sold separately) to eliminate negative back pressure. You are the KING of your own buffet free realm with this amazing advancement in windshield technology!
LRS Recurve Windshields are made from the highest optical grade acrylic and polycarbonate materials, allowing for a crystal clear look not only on the bike but for the rider's view as well. 
SPECS:
Width: 21.5"

Thickness: (.135")

Material: Impact Modified Acrylic

Recurve: Yes

Tints: Light

Sizes: 16", 18", 20"

Fits: FLHR, FLHRCI, FLHRSI
FITMENT:
The "Road King" Windshield is designed to fit all Harley Davidson Road King Models from 1994 to Present. 

Important: You will need the Quick-Detach/ Quick Release Bracket in order to install the windshield on your bike. 
Please note: Due to shrinkage, windshields may be a 1/2" smaller than ordered size.
Remember: LRS Recurve Windshields are made to be looked over, not through. 
*All Windshields are designed and made by Long Ride Shields out of Sparks Nevada USA*
The shield for us Road King riders!
Cracked my factory HD windshield so found a used wind splitter one and it looked great, but if I closed the vent my head bobbled all over the place. Saw the Long Ride Labor Day sale and was like let's do it! Easy to replace my factory shield with this one, vent was a little loose up and down but wasn't a factor at speed! Now I have wind when I want it but no bobble head! Saved me from going down the full fairing route!
From 20" LRS t0 20" LRS vented
Replace my LRS 20" by a 20" vented. It seems to help reduce the buffeting. I didnt experieced that much of it. I was trying to get the best thing out there. I would say that the vent help but its not a game changer for me. Loving it, only complain the vent arrived slightly damage.
2017 Harley Road King 20" acrylic light tint with vent.
I bought the shield hoping that the buffetting would be better. It is better, but not by too much. I'm 6' tall, 190 lbs. I didn't see much of a difference with the vent, BUT on hot days it's nice to have a little forced air coming at my upper chest area. I also had the non vented 20" screen which cracked because I mounted it too tight. Be careful not to torque it down to much when mounting the screen on the frame. On a side note, my buddy told me that the fangs with the new screen would make a difference. I haven't tried that yet.
Must have for over 70mph
Full size OEM shields with vents don't exist. LRS stopped the head bobble and buffeting. More control in crosswinds at high speed with recurve and vent open. LRS nailed it!
Great customer service, far superior product from stock
This is hard to write because it was such a stressful process .. but the bottom line is they went out of their way to make things right when the original order was a disaster. This was my 2nd experience with LRS, and the purchase for my Road Glide was exceptional. Fast shipping, easy return when I wanted a different size, and an AWESOME product over the stock Harley shield!
The windshield for my Road King was a nightmare. The final product is, again, awesome, but it arrived with no instructions, and didn't fit unless you hand-bent a metal piece to fit the windshield (who would expect to have to do that?). I was leaving on a long trip so customer service worked with me to have a windshield sent to one of the hotels I was at. I needed to get help to assemble it there because of the bending of the metal, and lack of instructions for installation. Luckily the guys I was traveling with were very experienced and figured it out so I could continue my trip. I'm still bummed though because I crossed the desert with a lot of painful wind buffeting because I didn't have the shield yet. And then had to pay $80 in shipping to mail home the crappy stock windshield once the LRS windshield got to the hotel. It turned out to be a very frustrating and expensive upgrade to my motorcycle.
There is NO DOUBT the LRS windshields are far superior to stock windshields, and I will absolutely be ordering from them again in the future, but only because they were so great to fix the problems I had with my order. They were definitely working to help me in my unique circumstances.