Long Ride Shields® Measurements
Need some help measuring for fit? Check the following sizing guides. All measurements are approximate. These may differ depending on material shrinkage when formed. More windshield measurements coming soon.

Batwing Fairing Measurements


2015 - Newer · Road Glide Fairing Measurements

Not sure which tint?
This will give you a better idea of what we're workin with.
Spice • up • your • Harley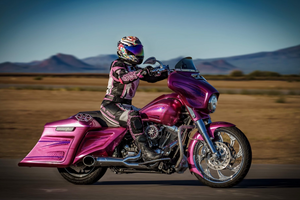 Top model
Tracy from AZ Cruise Academy ripping up the track and setting new lap times. You and Jym are amazing!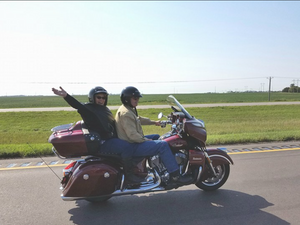 Cletus
Cruisin the highway with the wife on my super sweet Indian.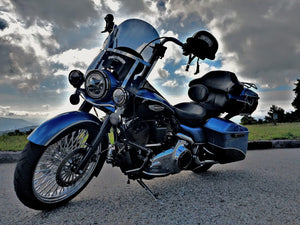 JJ Faulkwell
COMING IN HOTT!! Check out this sweet ride photo... So purdy.
LRS™ • Customer • Reviews
2020 Street glide. I live in Reno, NV and like to support local companies. Stopped by to check them out. I was very impressed. I was given a tour of the facility and watched how they made their products. I ended up with a clear 7" Mega Curve and took a long test ride. Very impressed. I have had the windshield for about 3 weeks now and could not be happier. This is a quality product backed up by a quality staff.
Edward L.
I ordered the Reaper for my Limited and was hoping for improvement over the factory shield. I got what I was hoping for. I got the shield and test mounted it even with the protective wrap on it. It lined up perfectly. Removed the wrap and mounted it right up wit no issues at all. I took the bike out for a ride and instantly could feel the difference between the factory shield and the Reaper. I ordered the 8 inch Reaper and it's a perfect shield. I couldn't be happier with my purchase. Thank you LRS. Keep up the good work.
Ken W.
Not only the Protection but the Style is second to none!!! I have heard about cool windshields with hips and curves from other companies, but nothing I've seen comes close to this. It was definitely worth the wait which is the only negative thing I have to say about it. If you Challenger doesn't have one of these windshields, you aren't doing it right! Indian Rider For Life!!!!
Bill 'Indian' S.